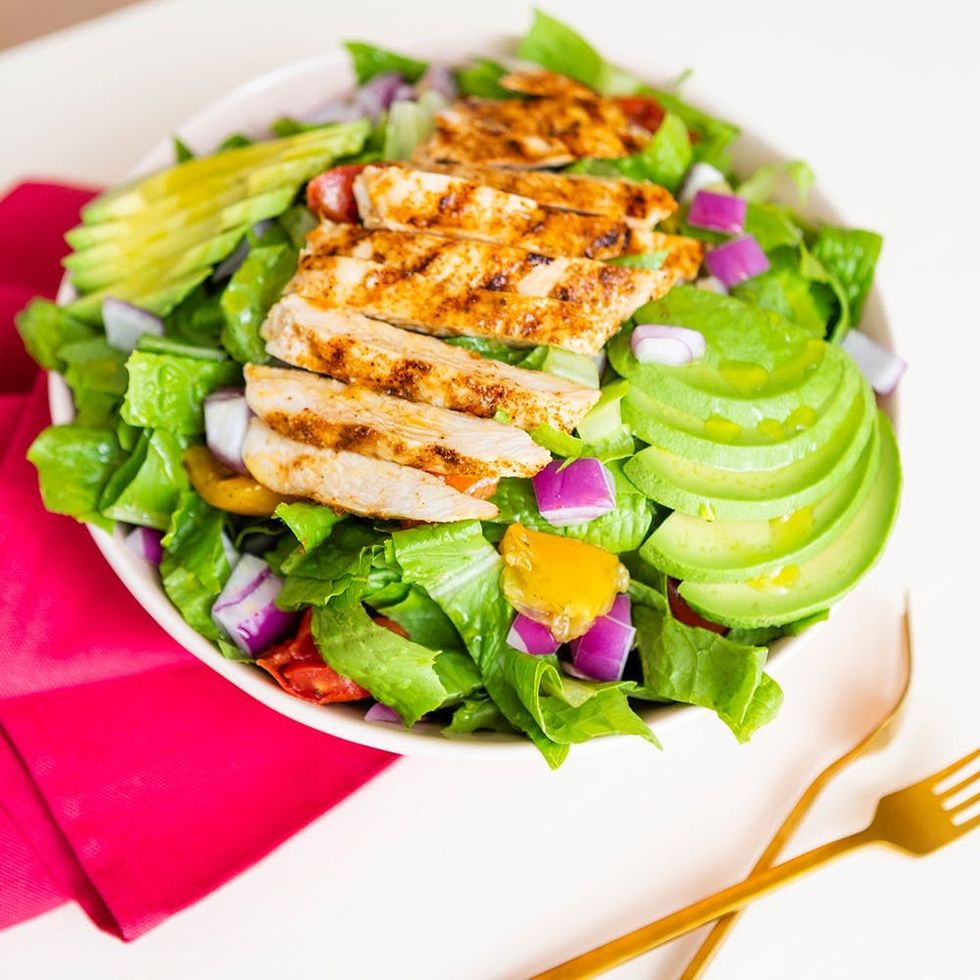 With work, school, and a social life, eating healthy is tough. After a long day, you just want a filling meal that takes minutes to make. We get it. That's why we've compiled quick and healthy meal recipes that will help you feel good inside and out.
1.Sweet Potato Egg Boat: Microwave that potato, crack an egg inside of it, then finish it in the oven (or toaster oven) for healthy food for one.
2.Creamy Chicken Quinoa Casserole: You wouldn't think anything creamy would be considered healthy, but feast your eyes on this beauty. And in case you're wondering, this chicken is seasoned with some bacon.
3. Make-Ahead Taco Bowls: It doesn't get any fresher than these taco bowls that have a little bit of everything. The guac will give your tastebuds a subtle punch that we know you're going to love.
4. Whole30 Blackened Chicken and Avocado Salad: This low-carb, Whole 30, and gluten-free dish will have you hoarding avocados. Savor this well-seasoned combination because it is *sure* to become a go-to recipe.
5. Spaghetti Squash Burrito Bowl: Who says healthy can't mean a little bit of indulgence? Just prep your fave toppings, roast a spaghetti squash, and you've got a fancy (and cheap) date night ahead of you.
6. Greek Salad Pizza: There's really nothing that pizza can't fix. Go for whole wheat dough and top it with salad ingredients to keep it on the healthier spectrum.
7. Mermaid Smoothie Bowl: Nutrient-rich spirulina or Blue Majik creates the mermaid-like hue of these smoothie bowls.
8. Mango Curry Shrimp: Run, don't walk, to your local Asian market to get the ingredients for this easy shrimp recipe. Serve it with brown rice or cauliflower rice instead of jasmine to lighten it up.
9. Chicken Salad Keto Lettuce Wraps: It's time for freshness, and this wrap is full of it! Just smear your favorite chicken salad (or hummus) on lettuce and sprinkle it with raspberries, walnuts, and chives , then you'll be good to go.
10. Cauliflower Rice Tacos: Munch on this protein-packed meal that features a rainbow of produce and will leave you full all day but feeling light as a feather.
11. Zucchini Nachos: For a low-carb option of nachos, pile on the traditional toppings over thinly sliced and grilled zucchini coins. (via Zucchini Nachos)
12. Cashew Alfredo: Lighten up your Alfredo sauce by skipping the heavy cream in favor of cashew cream. You can always sub out regular fettucine for zoodles too.
13. Pressure-Cooked Vegetarian Quinoa Chili: Chances are you've tried chili before, but we can guarantee it was nothing like this quinoa-filled dish. Make it your own by loading on the toppings.
14. Paleo Air-Fried Chicken Tenders: Ditch the white flour and deep-fryer, and reach for almond meal and an air-fryer instead. You'll be surprised how similar this version tastes to conventionally fried chicken and yet it's so much better for you.
15. Chicken Meatballs and Zoodles: Even if you're not keto, it's tough to resist this plate of zoodles, generously garnished with dollops of ricotta and moist chicken meatballs.
16. Zoodles Primavera: Spiralize your way to garlicky goodness with this super light pasta recipe. Like true Italian recipes, it's made with a whole bunch of basil and San Marzano tomatoes.
RELATED: 12 Simple Swaps to Eat Healthier Without Really Trying
(Photos via Brit + Co)
Additional reporting by Yasmein James
Magdalena O'Neal
Magdalena O'Neal is an editorial intern at Brit+Co. While she loves baked goods full of dairy and gluten, she finds herself making vegan, gluten-free desserts to please the masses.